How Do I Get Set-Up? (Creating an Account)
Step 1: Go to: www.lorman.com.
After going to lorman.com you will see the screen below. In the upper right hand corner of the screen you will see "My Account." Click on "My Account."
Step 2: You will then be brought to the screen below reading "Account Login." Please click "Join Now" under the "Create a Free Account" heading.
Step 3: From there you will be brought to the page that reads "Create a Free Account" (as seen below). Please fill in ALL "Personal Information" boxes.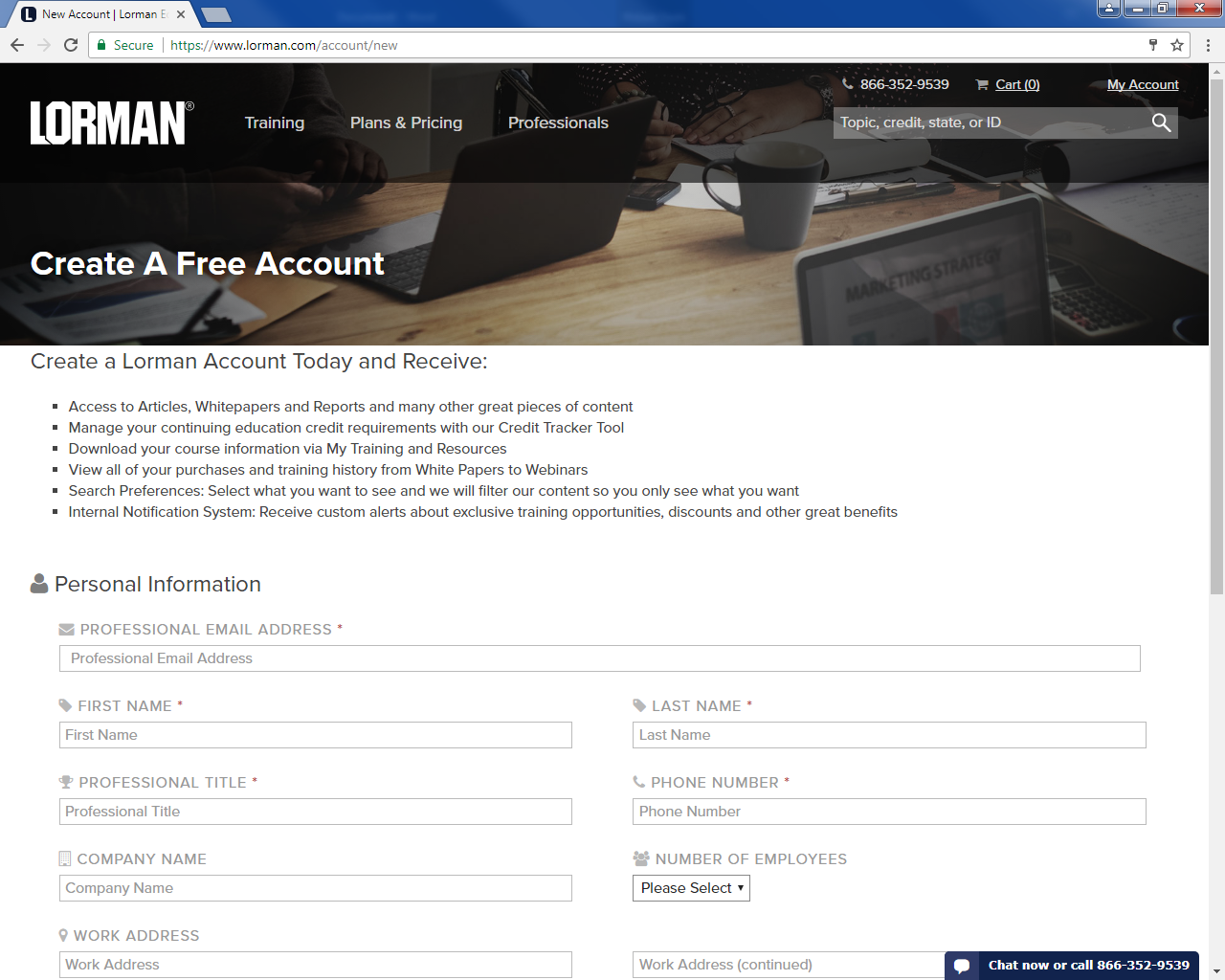 Step 4: After you have filled in all of the personal information boxes please click the red "Create a Free Account" option on the bottom left of the screen.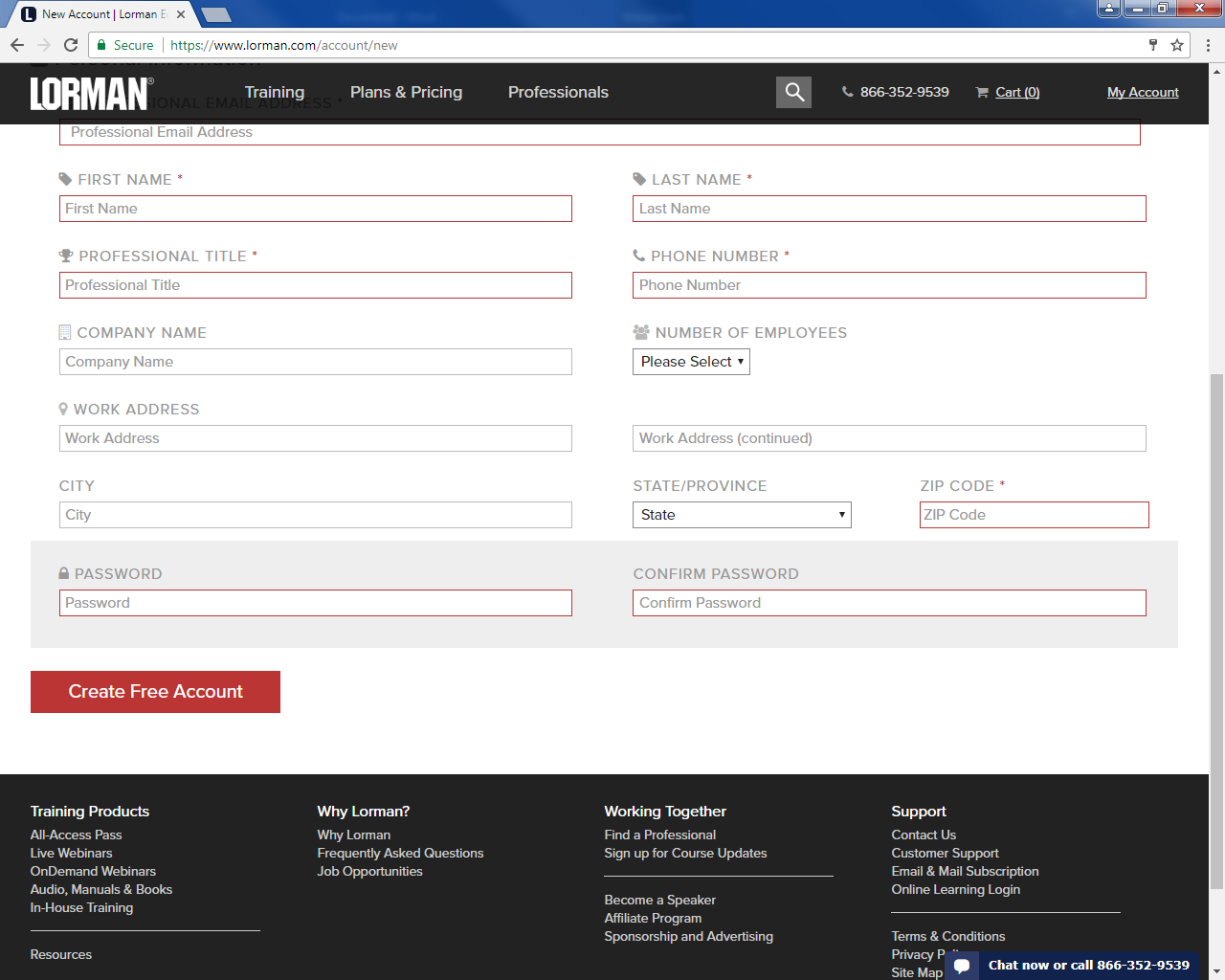 Step 5: You will then be advanced to the screen as shown below.
This will be your personal home page. Any webinars you request to watch will be shown on here. Simply click the webinar title (under the big blue play button). Your webinar will then begin. You will receive your CEU certificate at the end of the webinar. Most webinars are approximately 1 hour in length.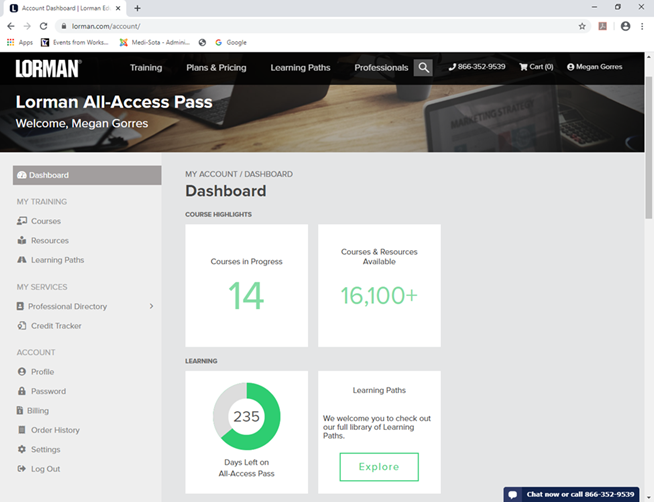 How do I register to view the webinar?
On the first Tuesday of every month I will send out an email listing the available webinars for that month. This will include the webinar title, webinar overview, and CEU information. Each month we will receive 5 new webinars to view.
When is the registration deadline?
To clarify- the FIRST TUESDAY of each month you will receive the list of that month's 5 available webinars (including webinar description and CEU information). You must email me stating what webinar you would like to view NO LATER THAN THE SECOND TUESADAY of that month. After the second Tuesday of the month I will no longer be able to add people to view that months webinar(s).
How do I get the webinar connection information for the webinar(s) I want to view?
If you would like to view a webinar you must simply send me (Megan Gorres) an email requesting the webinar you would like to view. I will then contact Lorman. From there Lorman will upload the webinar of your choice to your personal Lorman home page. This will be completed within 24 hours of your initial request. All of your past webinars will show up on your home page and will remain there for viewing for 12 months.
How much does this cost Medi-Sota members?
Every webinar is free to all Medi-Sota members.
Is this service available to Non-Members?
No, this is an exceptional cost savings for Medi-Sota members only.
Can I watch the webinar(s) more than once?
Yes, once you view the webinar you will have unlimited access to the webinar for 12 months.
Can I give my employees my Lorman login information so they do not have to create their own account?
No. Each person must create their own Lorman account.
Can we use these webinars for staff training or in-services?
Absolutely! Remember once you request the webinar you will have unlimited access to this webinar to 12 months.
September Webinars:
*If you would like to view any of these webinars (below) feel free to email me the request at any time between now and 3:00pm on Tuesday, September 12th*

In conclusion:
Given Medi-Sota's geographical location we are very excited about this Lorman Education package. Medi-Sota understands the challenges with staffing concerns, mileage, travel time, etc. We are open to suggestions, questions, comments, etc. Also, if you have a specific topic that you are looking for I will do my best to get those arranged. Please do not hesitate to contact me with any questions at 320-564-5015 or at This email address is being protected from spambots. You need JavaScript enabled to view it..